KSSM Secondary Form 1 English Exercises Set 1

A. Put in a, an or some in the blanks.
e.g. an egg

1. flour
2. banana
3. book
4. apple
5. oven
6. juice
7. bag
8. olive
9. oil
10. doll

B. Underline the correct word.
1. (Us, We) are going to watch the film 'Transformer' tonight.
Answer:

2. Tonny has lost the watch that (he, she) likes most.
Answer:

3. This is a secret between you and (I, me).
Answer:

4. The teacher asked David and Alex Jelian, "Have (you, us) finished the work?"
Answer:

5.Francis has a cat. He takes (it, them) for a walk every morning.
Answer:

6. James and I have not eaten anything since (we, they) left our school this afternoon.
Answer:

7. (They, Them) were good friends in their school days.
Answer:

8. Those are the oranges that she brought (us, we).
Answer:

9. Madam Josephine is a teacher. (He, She) teaches us Iban Language.
Answer:

10. My name is Michelle. (Me, I) come from Nanga Tada.
Answer:


C. Name the things in kitchen below.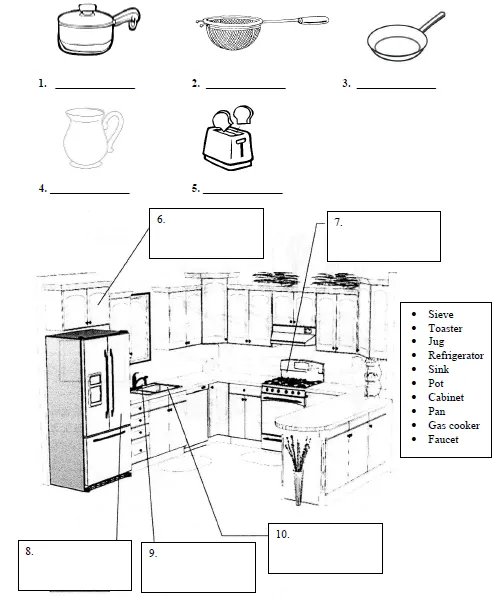 1. Answer:

2. Answer:

3. Answer:

4. Answer:

5. Answer:

6. Answer:

7. Answer:

8. Answer:

9. Answer:

10. Answer:

C. Fill in with the correct word.
can/mushroom/cook/can't/peppers/stir/butter/saucepan/easy/tomatoes



This is an (1) recipe that anyone (2) prepare. It is a (3) spaghetti. First heat the (4) in the (5). Add the mushrooms, (6) and (7). (8) for two minutes and add the rice. (9) it well. You (10) get it wrong!


D. Write the sentences in the correct order.
e.g.: on/sat/chair/he/down/the
He sat down on the chair.

1. walk/dog/for/takes/She/the/a
Answer:

2. to/cook/Mum/I/help
Answer:

3. friend/is/Sarah's/best/May
Answer:

4. leave/I/ten/at/home
Answer:

5. hurt/The/himself/boy
Answer:

6. work/I/in/the/school
Answer:

7. the/In/it is/summer/hot
Answer:

8. bath/twice/I/my pet/a week/dog
Answer:

9. In my/I/living room/have/sofa/a set of
Answer:

10.watching/TV/I like/every night
Answer:

11. dancer ? /you /are/ a/ is
Answer:

12. architect . /she /a /is/ an
Answer:

13. are /we /Scottish. /a
Answer:

14. I /police? /can /pass /the /phone/ to
Answer:

15. bus /driver? /Henry /a /is
Answer:

16. can't /Bob /play /guitar. /the
Answer:

17. mobile /Frank /at the moment /checking/ is /Tim's
Answer:

18. must /you /the /shopping /do
Answer:

19. sometimes /home /in the evening /works /Ben /at
Answer:

20. go /every /to the club /the girls /Saturday
Answer:

E. Underline the correct word. The first one (0) has been done for you.



Lions live in families. They are the second (0) larger/largest (large) big cat species in the world. The males are (1) bigger/biggest () than the females and they have (2) longer/longest () hair on their heads. Most lions live in southern Africa. Tigers live in forests. Some tigers are (3) bigger/biggest () than lions. Tigers are rare in the wild because people hunt them for their fur. Leopards and jaguars are very similar, but leopards live in Africa and Asia and jaguars live in central South America. Leopards are (4) smaller/smallest () than jaguars. However, leopards are the (5) stronger/strongest () climbers among big cats. Jaguars have (6) longer/longest () tails. Snow leopards are the (7) rarer/rarest () big cats. People hunt them for their fur. They live in high mountains. Cheetahs are the (8) faster/fastest () animals. They are well known for their hunting as they are (9) quicker/quickest () than any land mammal. Cheetahs also have very good eyesight, which makes the spotting of prey (10) easier/easiest ().


F. Fill in with the correct antonyms.

e.g.: It is very cold in winter.
It is very hot in summer.

1. He was tall and thin.
Answer:

2. The house is new and clean.
Answer:

3. She was sad and ugly.
Answer:

4. The dog was small and white.
Answer:

5. Sue walked slowly and carefully.
Answer:







If anyone has anything to discuss regarding to the kindly please comment in the facebook page here.
如有需要讨论任何题目或有什么要基于改进的留言可到 面书上 留言。