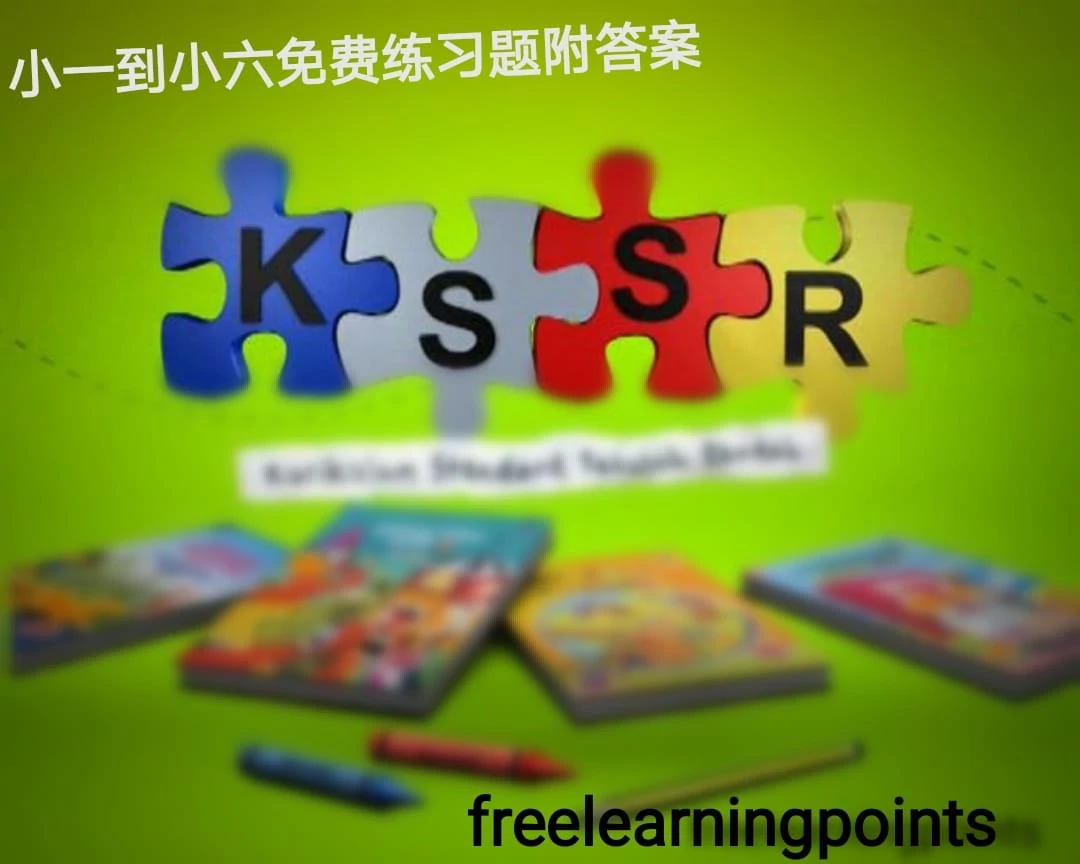 KSSR Primary Standard Three English Exercises Set 1
A. Fill in the blanks with correct answer "is", "are" or "am".
1. My father at work.
2. Trixi and Susi my cats.
3. My green pencil on the floor.
4. His sister seven years old.
5. They going to run laps.
6. Pumpkins orange.
7. The flower pretty.
8. I teaching you.
9. He a funny boy.
10. Kim and Dan friends.
11. The dog lost.
12. Saturday and Sunday the weekend.
13. I very happy.
14. The flower pretty.
15. She telling a joke.
B. Choose the correct answer.
1. Is she your mother? No, she's ______ aunt.
A. your
B. you
C. my
Answer:
2. _______Mr. Tan and Miss Fang teaching Class 2A? Yes, they are.
A. Is
B. Are
C. Am
Answer:
3. We are good _________.
A. boies
B. boy
C. boys
Answer:
4. There______ a chair and a desk in the room.
A. have
B. are
C. is
Answer:
5. What are they reading?__________________________.
A. Yes, they are reading storybooks.
B. They are reading a storybook.
Answer:
6. Is this your ballon? No, It's _________ballon.
A. his
B. my
C. our
Answer:
7. What do you like doing?___________________.
A. I like making kites
B. I can make a kite.
C. I like kites.
Answer:
8. What colour________the rope?
A. is
B. are
C. /
Answer:
9. What do you enjoy_______________?
A. do
B. to do
C. doing
Answer:
10. Colin and Kitty ________ my good friends.
A. am
B. is
C. are
Answer:
11. _________is it? It's two ringgit.
A. How many
B. How much
C. What
Answer:
12. What is that?____________an ice-cream.
A. That's
B. This is
C. It's
Answer:
13. I feel cold._________the window, please.
A. Open
B. Close
C. Turn off
Answer:
14. I'm Alice. I _________my sister.
A. like
B. likes
C. liked
Answer:
15. What's this?__________a library.
A. It's
B. This is
C. That's
Answer:
16. The boy ________ making kites when he was five.
A. enjoy
B. enjoyed
C. enjoying
Answer:
17. My mother and I_________in the park. We________happy.
A. are are
B. am are
C. are am
Answer:
18. There were animals in the farm.
A. What were in the farm
B. Who were in the farm
C. Which were in the farm
Answer:
19. ___________they my cows? Yes, they are.
A. Have
B. Are
C. have
Answer:
20. My birthday is in July. I wish to get ___ presents for my birthday.
A. a
B. /
Answer:
If anyone has anything to discuss regarding to the kindly please comment in the facebook page here.
如有需要讨论任何题目或有什么要基于改进的留言可到 面书上 留言。