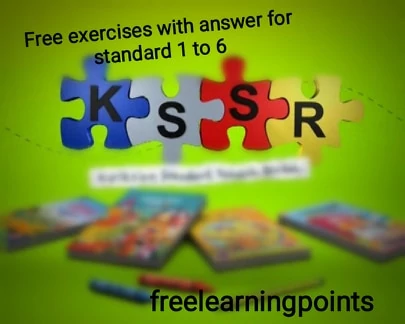 KSSR Primary Standard Six English Exercises Set 1
A. Choose the correct answer.
1. I like sports and I eat (good / well), so i am healthy.
Answer:
2. Peter eats a lot of (health / healthy) food.
Answer:
3. Kitty eats fruits (two / twice) a week.
Answer:
4. Ravi was (as loud as thunder / as bright as the sun) delivering his speech in the competition.
Answer:
5. Don't be sad, you will win the next round as the saying goes (barking up the wrong tree / every dog has its day).
Answer:
B. Multiple choices.
1. How does she now?
A. feels
B. feeling
C. feel
2. Why do you like spring? It is I can fly a kite.
A. because
B. so
C. but
3. The princess was sad when the prince turned into an ugly frog.
A. just
B. really
C. almost
4. Pei Ling is siting her teacher and the principal.
A. by
B. within
C. between
5. Kamariah is very sad because all the girls in class are than her.
A. tall
B. taller
C. tallest
6. The furious chef wanted to kill the crow but he when it begged him.
A. stops
B. stopped
C. stopping
7. The passers-by shouted when they saw the children running the busy road.
A. across
B. along
c. through
8. What should you do there is no one at home?
A. why
B. when
C. where
9. Daniel uses laptop to surf internet.
A. a, a
B. the, a
C. a, the
10. Among the three brothers, Razib is .
A. diligent
B. more diligent
C. the most diligent
C. Choose the best answer to complete the sentence.
1. A pack of ________ attacked the sheep last night.
A. wolf
B. wolfs
C. wolfes
D. wolves
Answer:
2. This is ________ biggest fruit that I have ever seen.
A. a
B. an
C. the
D. -
Answer:
3. The motorcyclist was injured. The ambulance sent _______ to the hospital.
A. he
B. they
C. him
D. them
Answer:
4. One of my brothers ________ in Australia.
A. study
B. studies
C. studys
D. studying
Answer:
5. My classmates _______ happily at the Children's Day party yesterday.
A. sing
B. sings
C. sung
D. sang
Answer:
Choose the most suitable proverb.
6. Farid forgot to bring his wallet and had no money to buy food during recess. Ali shared his chocolate muffin with him. As they saying goes ____________
A. a stitch in time saves nine
B. a friend in need is a friend indeed
C. look before you leap
D. don't count your chickens before they hatch
Answer:
Choose the best answer for each blank.
Aini is at Mawar Park with her parents and little sister, Lina. Aini is (7)_______ the pigeons. Lina is looking at some (8)_______ which are swimming in the water. There are fish too but Lina cannot see them because they are hiding (9)________ some seaweed.
7.
A. feed
B. feeds
C. feeding
D. fed
Answer:
8.
A. birds
B. kittens
C. puppies
D. turtles
Answer:
9.
A. on
B. among
C. near
D. above
Answer:
Choose the word that has the opposite meaning as the underlined word.
10. The board highway has five lanes in each direction.
A. wide
B. straight
C. narrow
D. crookec
Answer:
Choose the sentence with the correct punctuation
11.
A. My sister works in a Clinic in Bandar Tasik Putera.
B. My sister works in a clinic in Bandar Tasik Putera.
C. My sister works in a Clinic in Bandar tasik putera?
D. My sister works in a clinic in Bandar tasik putera.
Answer:
Choose the best answer in the following blanks.
Mrs Wong was sewing the button back on her son's shirt. She forgot to put away her scissors (12)__________ using them. Her daughter, Mei Ling, (13)_______ the scissors and started playing with them. She wanted to make a dress for her doll (14)______ she cut out the curtain, leaving a big hole in it. Mrs Wong was shocked when she saw the torn curtain. Although Mrs Wong was angry, she was glad that Mei Ling did not (15)_______ herself.
12.
A. during
B. while
C. before
D. after
Answer:
13.
A. find
B. finds
C. finded
D. found
Answer:
14.
A. because
B. and
C. so
D. but
Answer:
15.
A. hurt
B. hurts
C. hurted
D. hurting
Answer:
D. Read the passage below carefully and answer the questions that follow.
PETALING JAYA, Friday - The huge green agre was popular as "Shrek The Musical" opened to a full house here.

Being the first show in Southeast Asia, about 5000 people flooded the Petaling Jaya Convention Centre last night to catch the heart-warming yet funny tale of Shrek.

Based on the 2001 Oscar-winning animated movie by DreamWorks, the show also featured beloved fairy tale characters like Pinocchio, Puss in Boots, the Gingerbread Man and the Big Bad Wolf. Lead actors, Lukas Poost and Liz Shivener were among 70 casts, crew and orchestra members who helped bring the humourous fairy tale to life.
1. The character 'Shrek' is a _______________.
A. princess
B. cat
C. wolf
D. giant
Answer:
2. The musical was held at __________.
A. Putrajaya
B. Kuala Lumpur
C. Petaling Jaya
D. Subang Jaya
Answer:
3. The following are characters in the musical except _________.
A. Puss in Boots
B. Pinocchio
C. Gingerbread Man
D. Lukas Poost
Answer:
4. The word humourous in the news report means ____________.
A. touching
B. famous
C. funny
D. sad
Answer:
5. Which phrase tells us that 'Shrek The Musical' was a success in Petaling Jaya?
A. Heart-warming yet funny
B. The first and only stop
C. The huge green orge
D. Opened to a full house
Answer:
E. Read Brian's diary extract below and answer that follow.
25 November:
John and I were lost in the jungle. Found a small cave to stay in just before dusk. The night was cold. John and I had to cuddle together for warmth.
26 November:
Legs trembled with fear when I saw a snake approaching me. Fell and hurt my ankle. John told me not to panic. The snake moved slowly away at last. John helped me back to the cave and took care of me the whole night.
27 November:
Saw the largest flower in the world. It was about 100cm in diameter and smelled like rotting flesh. Flies were attracted to it. Some beetles were wriggling around the flower. Saw two giant scorpions in the cave at night. Chased them away.
28 November:
Was relieved when he saw our parents and the rescue team.
1. Brian and John were lost in the jungle for ______ days.
A. four
B. five
C. six
Answer:
2. The word them in the diary extract refer to the ______.
A. flies
B. beetles
C. scorpions
Answer:
3. What did Brian and John do to keep themselves warm when they were cold?
Answer:
4. Why do you think the largest flower in te world smelled like rotting flesh?
Answer:
5. Do you think John was a good friend? Why?
Answer:


F. Choose the best answer to complete the sentence.
1. The men had to swim _____ the river when then bridge collapsed.
A. through
B. across
C. along
D. over
Answer:
2. The children sat in the library _______ when they saw the librarian.
A. proudly
B. silently
C. happily
D. honestly
Answer:
3. The wind ______ away her cap just now.
A. blow
B. blows
C. blew
D. blowing
Answer:
4. There was not _____ water in the kettle when I looked at it just now.
A. little
B. some
C. many
D. much
Answer:
5. He drove his car slowly ____ the road was wet.
A. or
B. so
C. and
D. because
Answer:
If anyone has anything to discuss regarding to the kindly please comment in the facebook page here.
如有需要讨论任何题目或有什么要基于改进的留言可到 面书上 留言。